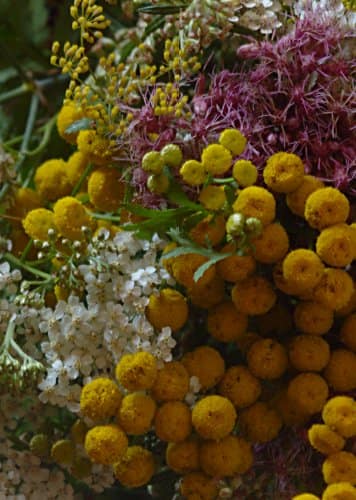 Duizendblad is ook van oudsher één van de beschermende kruiden die gebruikt werden voor het samenstellen van de bloementuilen die in heel wat streken in Europa in augustus geplukt werden.
In oorsprong was het wellicht een tuil die geplukt werd in de periode van de eerste graanoogst, die gewoonlijk begin augustus valt. De tuil werd op de eerste schoof gebonden, en moest de familie in het komende jaar beschermen. Waarschijnlijk is het een gebruik dat al in voorschristelijke tijden bestond, maar gekerstend werd tot 'Hemelvaartstuilen', die je terugvindt in streken in Oostenrijk, Duitsland, Zwitserland… en die we in Limburg (en wellicht elders in Nederland en België?) als kruidwis, kruidwesch, kroetwusch…
De samenstelling van de ruikers varieerde van streek tot streek, en bestond uit die kruiden die ter plekke als beschermend, als anti-magisch werden beschouwd. Naargelang de regio kon zo'n ruiker zeven tot negenennegentig verschillende planten bevatten (die 99 lijkt mij wel rijkelijk veel…).
Altijd zaten daar een aantal vaak sterkruikende kruiden bij, die beschouwd werden als anti-magisch. Duizendblad is daar één van, maar ook bijvoet, alsem en citroenkruid (drie artemisiasoorten), boerenwormkruid, alant, koningskaars… hoorden bij deze zogenaamde donderplanten.
In sommige streken werden ook graanaren aan de ruiker toegevoegd, en tuinbloemen zoals Dahlia en guldenroede waarvan de bloei in augustus pas goed op gang komt. Ook bladeren van de walnoot vind je wel eens in de tuilen terug.
De ruiker werd soms samengebonden met een rank van bitterzoet.
Traditioneel werd de ruiker geplukt op de donderdag voor Maria-Hemelvaart (15 augustus), en er werd wel eens verlangd dat je de planten plukte en de tuil schikte zonder dat je ijzer mocht raken, of zonder erbij te spreken. Op Hemelvaartsdag zelf, werd de Kruidwis in de kerk gezegend, en vervolgens opgehangen in huis en stal, om die in het komende jaar vooral tegen onweer te beschermen. Soms werd daartoe tijdens een onweer een stukje van de tuil in het vuur gegooid.
Tot nu toe heb ik voor België en Nederland alleen bronnen gevonden die spreken over Kruidwissen in Limburg, en over Reinevaartuilen (boerenwormkruid) in sommige streken in Wallonië. Ik zou het leuk vinden te horen of er in andere streken gelijkaardige tradities bestaan.